Model NO.: GT3520-18W

Mounting Brackets: Stainless Steel

Housing Materials: Diecast Aluminum

Life Time: up to 50, 000.0 Hours

Lumens: 1572lm

Wire Line: Silicone Rubber Line

Cover Material: Polycarbonate Board(Lexan)

Housing Color: Black

Beam: Spot/Flood Beam

Operating Temperature: -40~+50 C

Trademark: Non

Transport Package: Neutral Outer Package+Plain Outer Package+EPE Foam

Specification: 7.4inch

Origin: Foshan, Guangdong

HS Code: 9405409000

Model NO.: GT3520-18W

Mounting Brackets: Stainless Steel

Housing Materials: Diecast Aluminum

Life Time: up to 50, 000.0 Hours

Lumens: 1572lm

Wire Line: Silicone Rubber Line

Cover Material: Polycarbonate Board(Lexan)

Housing Color: Black

Beam: Spot/Flood Beam

Operating Temperature: -40~+50 C

Trademark: Non

Transport Package: Neutral Outer Package+Plain Outer Package+EPE Foam

Specification: 7.4inch

Origin: Foshan, Guangdong

HS Code: 9405409000

18W 7.4inch Driving Led Single Row Light Bar 

 

 Product Details:

•3W each CREE LED, 6pcs of LEDS                                

 •Voltage:10V-30V DC 
•Color temperature:6000K          
•Shape: Elongated         
•Size: 7.4inch            
•Beam: Flood beam/Spot beam
•Light output about :1572lm
•Material:Diecast aluminum housing             
• LENS: PC LENS
•Mounting Bracket: Alu firm aluminum bracket                
•Waterproof rate:IP67
•Operating Environment:-40~+50°Celcius

 

Products Features:

Energy efficient and works a long time without starting engine

Water-proof and anti-corrosive

Life time: >50000 hours

Easy to install wiith adjustable mounting accessories

 

 

 

We're true factory have produce LED since 2010, during these time we have successfully exported our products to Australia, North America, part of Europe and South Africa etc...OEM is available!


 
| | | | | | | |
| --- | --- | --- | --- | --- | --- | --- |
| Model | Size(Inch) | Power | Led's | Beam | Color Temperature | Ram Lumens(lm) |
| GT350-18 | 7.4 | 18W | 6pcs*3W Cree | Spot/Flood | 6000K | 1572 |
| GT350-36 | 13.6 | 36W | 12pcs*3W Cree | Spot/Flood/Combo | 6000K | 3144 |
| GT350-54 | 19.8 | 54W | 18pcs*3W Cree | Spot/Flood/Combo | 6000K | 4716 |
| GT350-72 | 26 | 72W | 24pcs*3W Cree | Spot/Flood/Combo | 6000K | 6288 |
| GT350-90 | 32.2 | 90W | 30pcs*3W Cree | Spot/Flood/Combo | 6000K | 7860 |
| GT350-108 | 38.3 | 108W | 36pcs*3W Cree | Spot/Flood/Combo | 6000K | 9432 |
| GT350-126 | 43.4 | 126W | 42pcs*3W Cree | Spot/Flood/Combo | 6000K | 11000 |
| GT350-144 | 50.7 | 144W | 48pcs*3W Cree | Spot/Flood/Combo | 6000K | 12576 |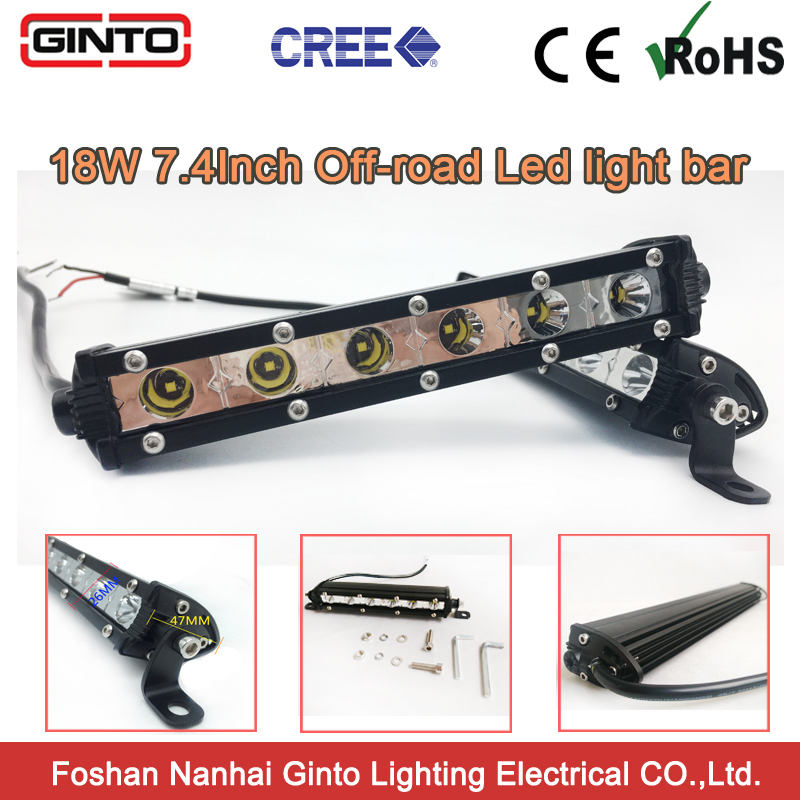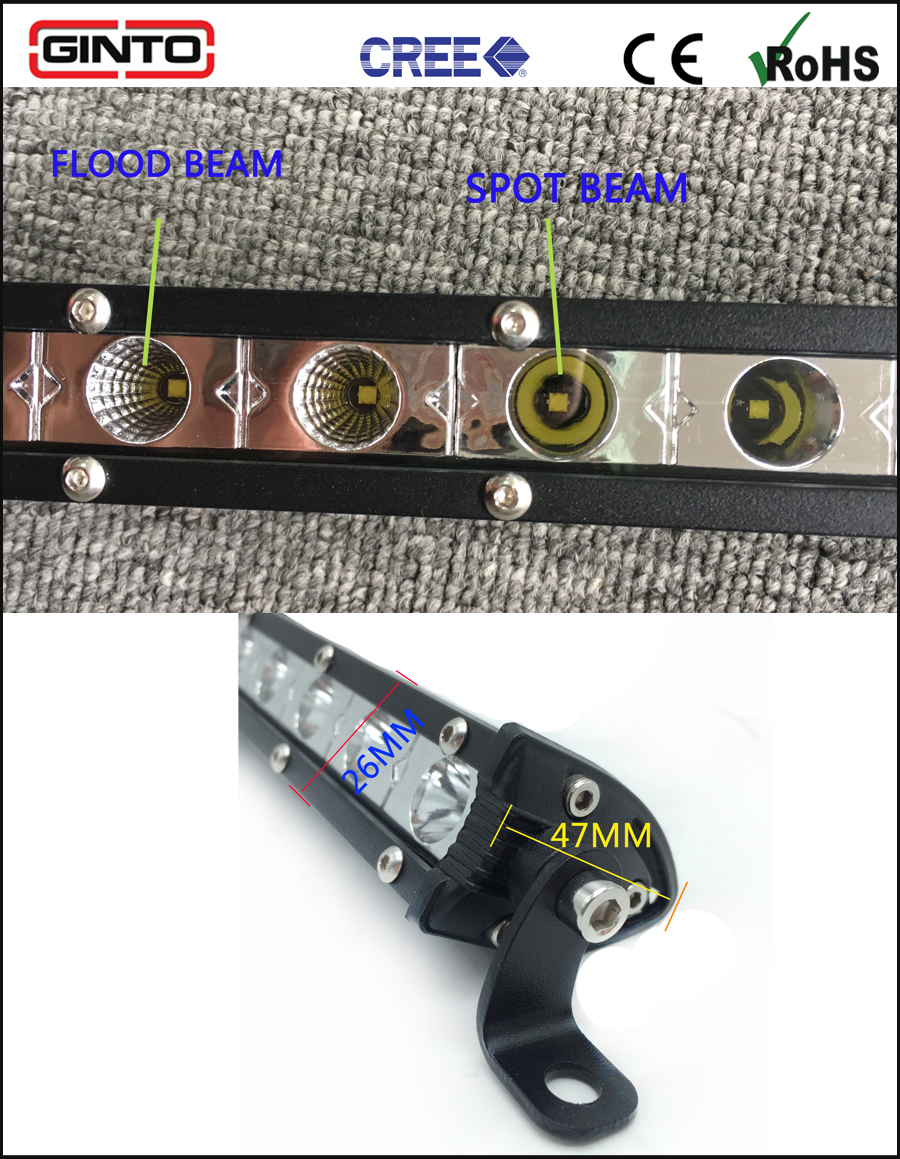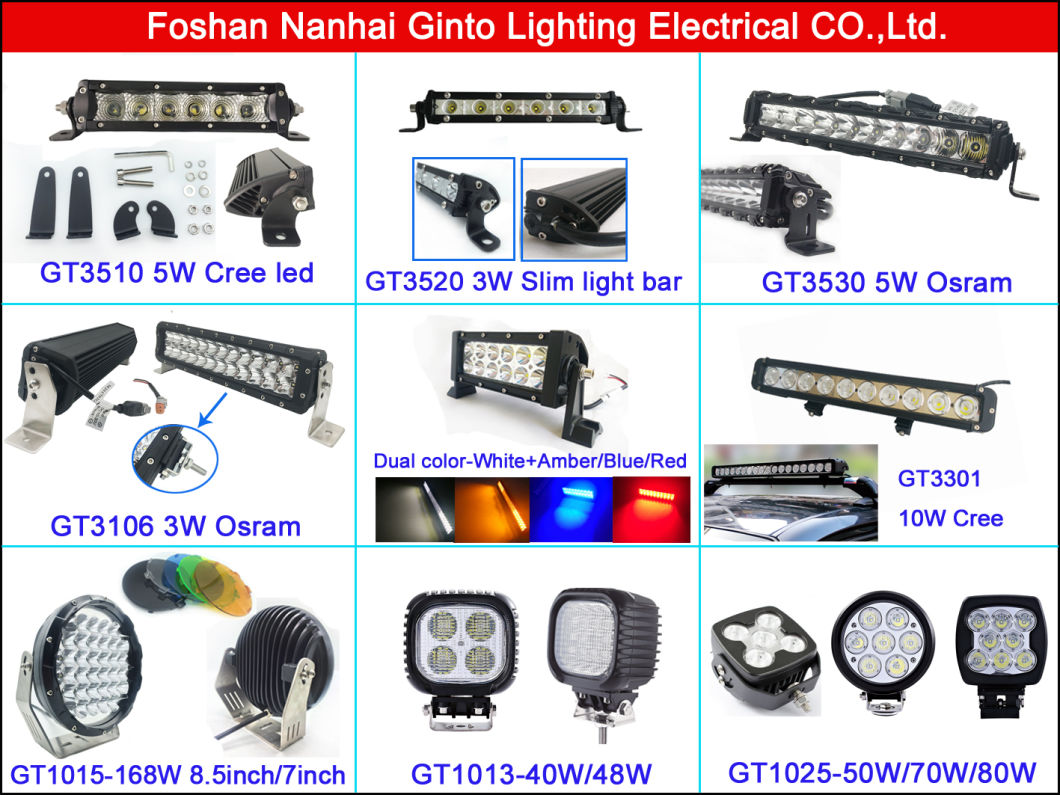 Packages of super bright led light bar:

Plain carton box+neutral ourter K paper box, 4 pcs per carton

 

Applications:

1. Off road vehicles: 4×4, ATVs, SUV, UTV, truck, trailer, Fork lift, trains, boat, and tanks.
2. Engineering vehicles: Excavator, dozer, road roller, bulldozer, crane and mining truck etc.
3. Specialized vehicles: Fire engine, police cars, rescue vehicle, communication vehicle,
military command vehicle etc.
4. Other usage: Beach lights, Mining lighting, Caravan lighting, Construction lighting, Garden &
exterior lighting, Agricultural machinery lamps, Hunting, camping & outdoor lighting.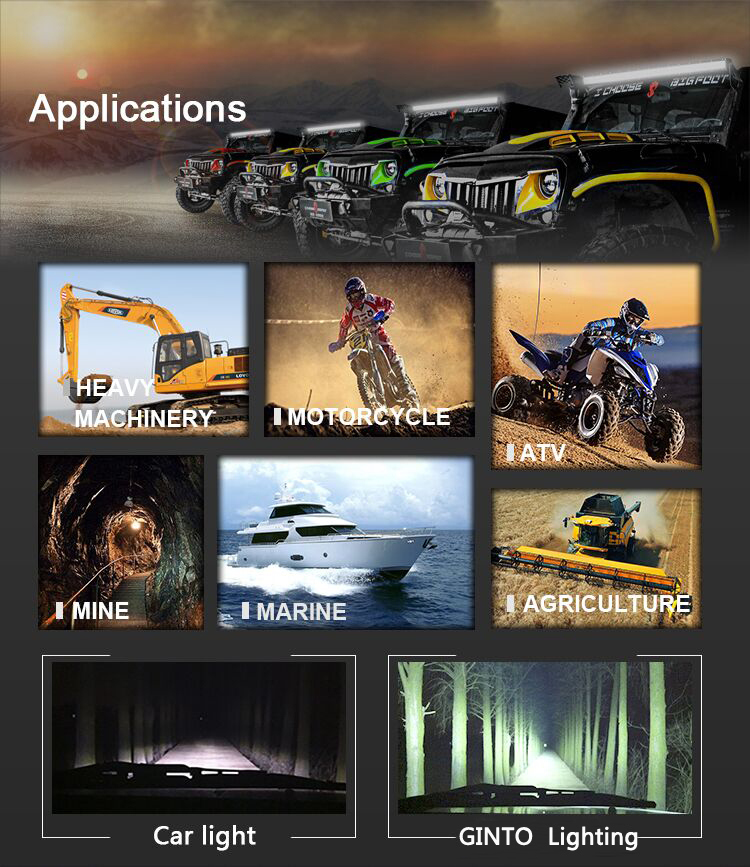 Company information

*Our company is specialized in producing premium Led light bar, led work light, offroad accessories includes mounting clamps/brackets and wiring harness. Our products meet the demands of various industries, such as auto industry and car lighting. With several years' efforts, our products are sold to customers all over the world and have been awarded a high reputation by customers for great quality and reasonable price.

*Business model:Â Manufacturer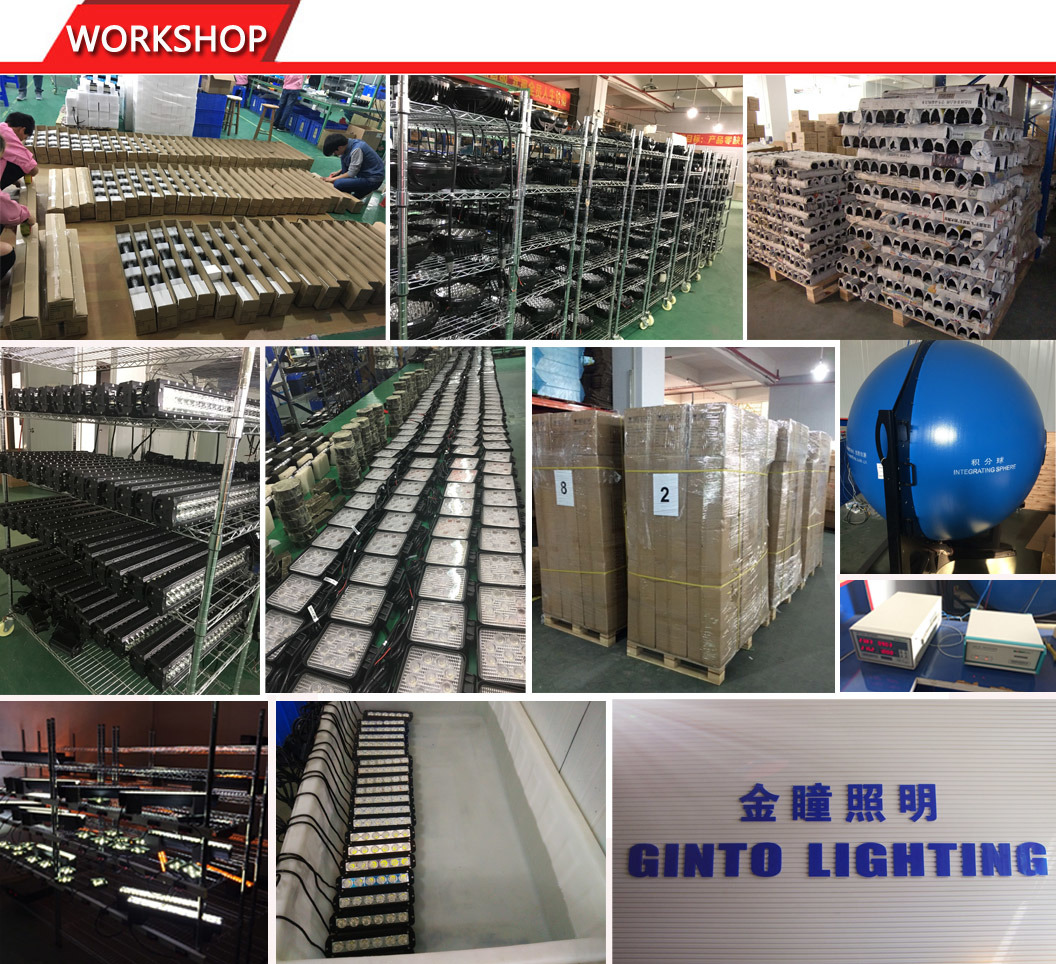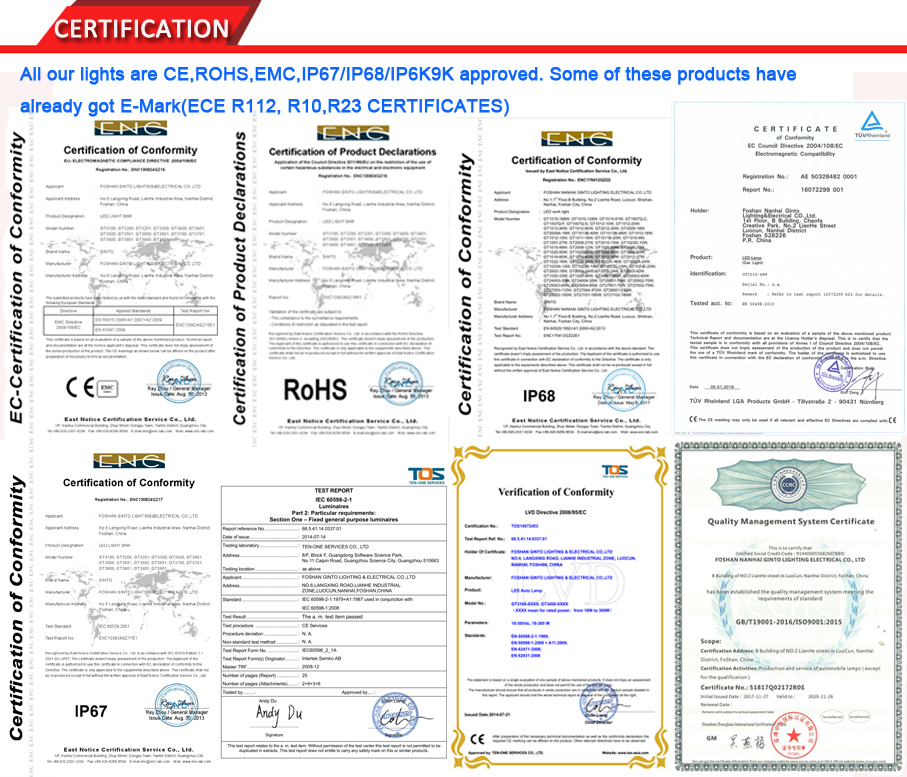 Why choose Ginto Lighting company?
1. Factory Manufacturing Enterprise Provide you with Competitive Price and superior quality.
2. Have stable supply chain which can guarantee our product quality and prompt delivery.
3.Trial Order, small quantity for retail and wholesale are accepted.
4. Fully equipped with advanced machines and experienced workers.
5.OEM Service available, Designed Service Offered, Buyer's Label, customized packages
6.Sincere Service!(Effective pre-sales communication+Good after-sales service )
7.Ginto Lighting and our products have already passed a series of international attestations
including CE, RoHS, ECE, E-mark, IP67, IP68, UL, WEEE certification.

FAQ(Items you should know before you place the order):
Q 1. What are your Payment terms?
T/T, Paypal, Western Union are all available.
 
Q 2. What are your shipping terms?
Normally, for small orders, we will ship the goods by express courier, such as DHL, UPS, TNT, Fedex ...,
we will sure choose the cheapest express agent for you.
For bulk orders, normally we can deliver the goods by air, or by sea.
If it's urgent for you, we will send them to you by normal air ways, 
If it's not urgent, we will deliver by sea ways. 
 
We will choose the best one according to your demand or give you valuable suggestions.
 
Q 3. What is your warranty? How can you make sure that your customers can get the due compensation if they encounter quality problems?
Our warranty time is 1 year.
 
Within the warranty time, under normal using circumstance, if there is any quality problem, please feel free to contact us and send us high-definition photos about the products, for some situations, it's better if you can send us clear videos, and we will send you a new one after we checked. 
 
We are doing long-terms business, we want to build long-terms and stable business relationship with our customers, not just once, we will sure take our responsibility if it's our quality problem.
 
QÂ 4. Do you offer free samples?
Normally, we need to charge you sample fee. If your subsequent orders can reach to a certain quantity, we will return your one piece of sample fee, if you need to know more details, please contact with us to check.
 
Q 5. What services can you offer?
We offer customized sticker & packages cartons; We also accept OEM orders, free logo print service and so on.
 
Q 6. For how long time will you deliver the shipments after we pay the deposit or full amount?
If all the items you ordered are in stock, the shipments will be delivered in 2-3 days; 
For small orders that we need to arrange the production, we will deliver them out within 7-10 days;
For bulk orders or customized orders, we will arrange production plan and reorder the materials, 
generally it takes about 15-25 days.

18W 7.4inch Driving Led Single Row Light Bar 

 

 Product Details:

•3W each CREE LED, 6pcs of LEDS                                

 •Voltage:10V-30V DC 
•Color temperature:6000K          
•Shape: Elongated         
•Size: 7.4inch            
•Beam: Flood beam/Spot beam
•Light output about :1572lm
•Material:Diecast aluminum housing             
• LENS: PC LENS
•Mounting Bracket: Alu firm aluminum bracket                
•Waterproof rate:IP67
•Operating Environment:-40~+50°Celcius

 

Products Features:

Energy efficient and works a long time without starting engine

Water-proof and anti-corrosive

Life time: >50000 hours

Easy to install wiith adjustable mounting accessories

 

 

 

We're true factory have produce LED since 2010, during these time we have successfully exported our products to Australia, North America, part of Europe and South Africa etc...OEM is available!


 
| | | | | | | |
| --- | --- | --- | --- | --- | --- | --- |
| Model | Size(Inch) | Power | Led's | Beam | Color Temperature | Ram Lumens(lm) |
| GT350-18 | 7.4 | 18W | 6pcs*3W Cree | Spot/Flood | 6000K | 1572 |
| GT350-36 | 13.6 | 36W | 12pcs*3W Cree | Spot/Flood/Combo | 6000K | 3144 |
| GT350-54 | 19.8 | 54W | 18pcs*3W Cree | Spot/Flood/Combo | 6000K | 4716 |
| GT350-72 | 26 | 72W | 24pcs*3W Cree | Spot/Flood/Combo | 6000K | 6288 |
| GT350-90 | 32.2 | 90W | 30pcs*3W Cree | Spot/Flood/Combo | 6000K | 7860 |
| GT350-108 | 38.3 | 108W | 36pcs*3W Cree | Spot/Flood/Combo | 6000K | 9432 |
| GT350-126 | 43.4 | 126W | 42pcs*3W Cree | Spot/Flood/Combo | 6000K | 11000 |
| GT350-144 | 50.7 | 144W | 48pcs*3W Cree | Spot/Flood/Combo | 6000K | 12576 |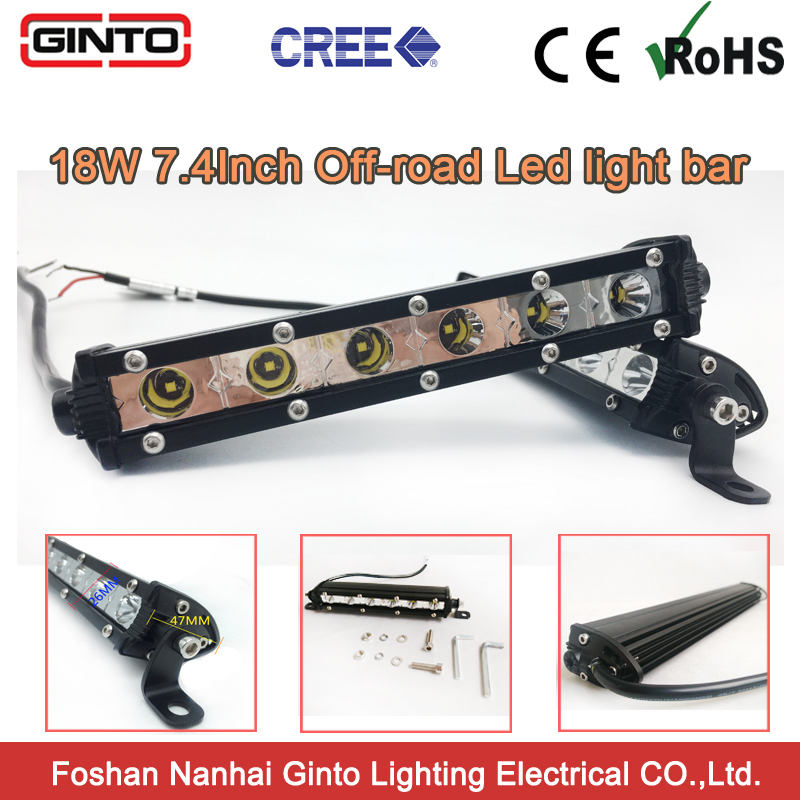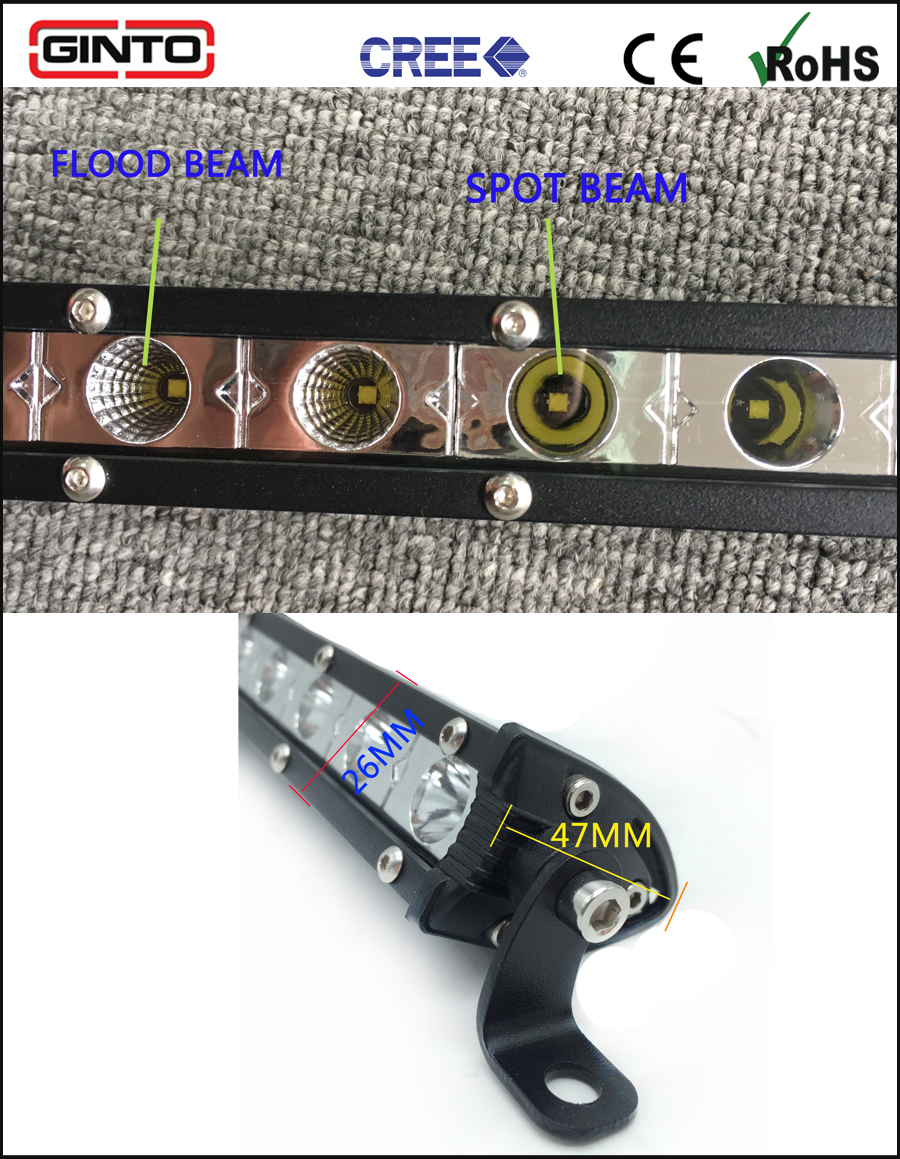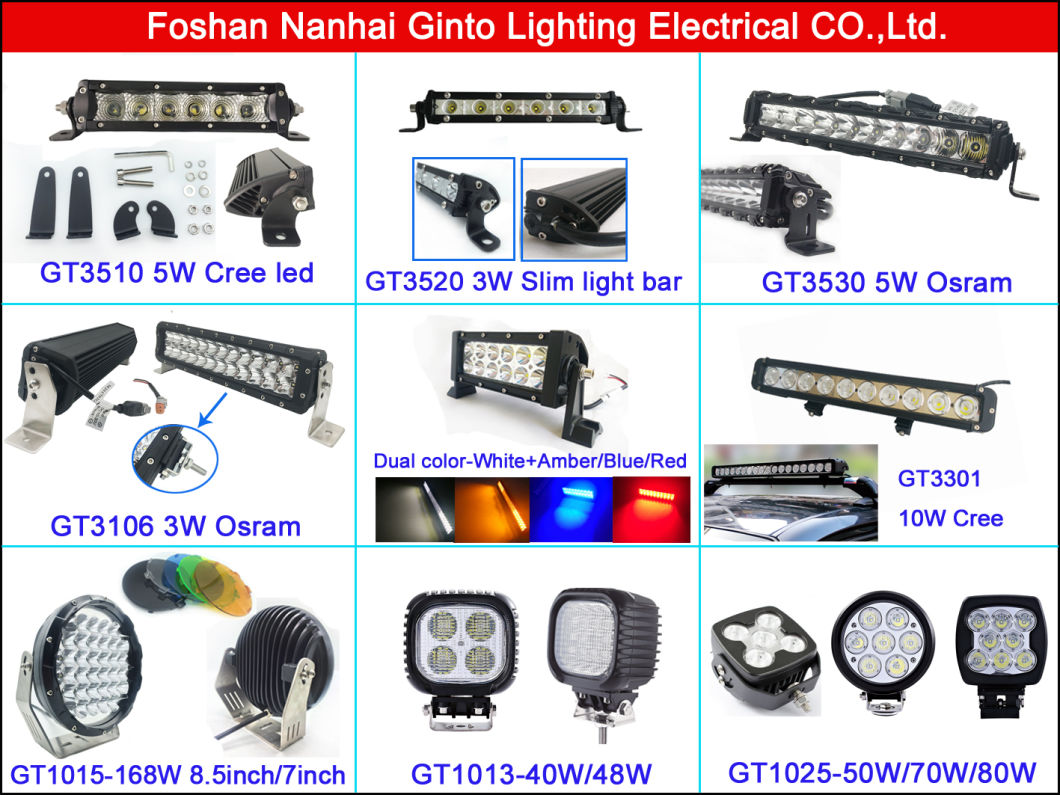 Packages of super bright led light bar:

Plain carton box+neutral ourter K paper box, 4 pcs per carton

 

Applications:

1. Off road vehicles: 4×4, ATVs, SUV, UTV, truck, trailer, Fork lift, trains, boat, and tanks.
2. Engineering vehicles: Excavator, dozer, road roller, bulldozer, crane and mining truck etc.
3. Specialized vehicles: Fire engine, police cars, rescue vehicle, communication vehicle,
military command vehicle etc.
4. Other usage: Beach lights, Mining lighting, Caravan lighting, Construction lighting, Garden &
exterior lighting, Agricultural machinery lamps, Hunting, camping & outdoor lighting.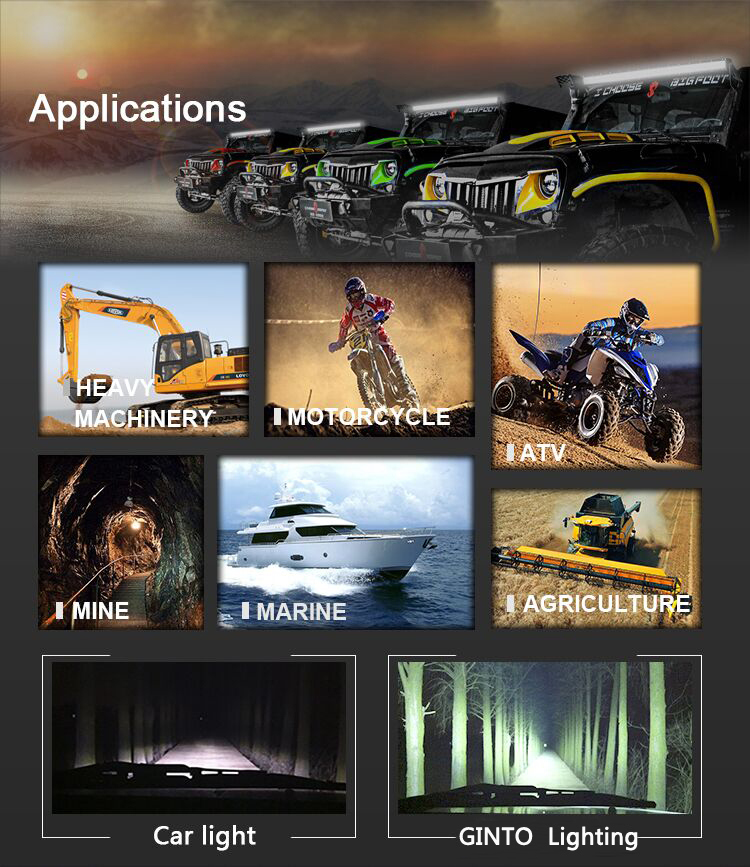 Company information

*Our company is specialized in producing premium Led light bar, led work light, offroad accessories includes mounting clamps/brackets and wiring harness. Our products meet the demands of various industries, such as auto industry and car lighting. With several years' efforts, our products are sold to customers all over the world and have been awarded a high reputation by customers for great quality and reasonable price.

*Business model:Â Manufacturer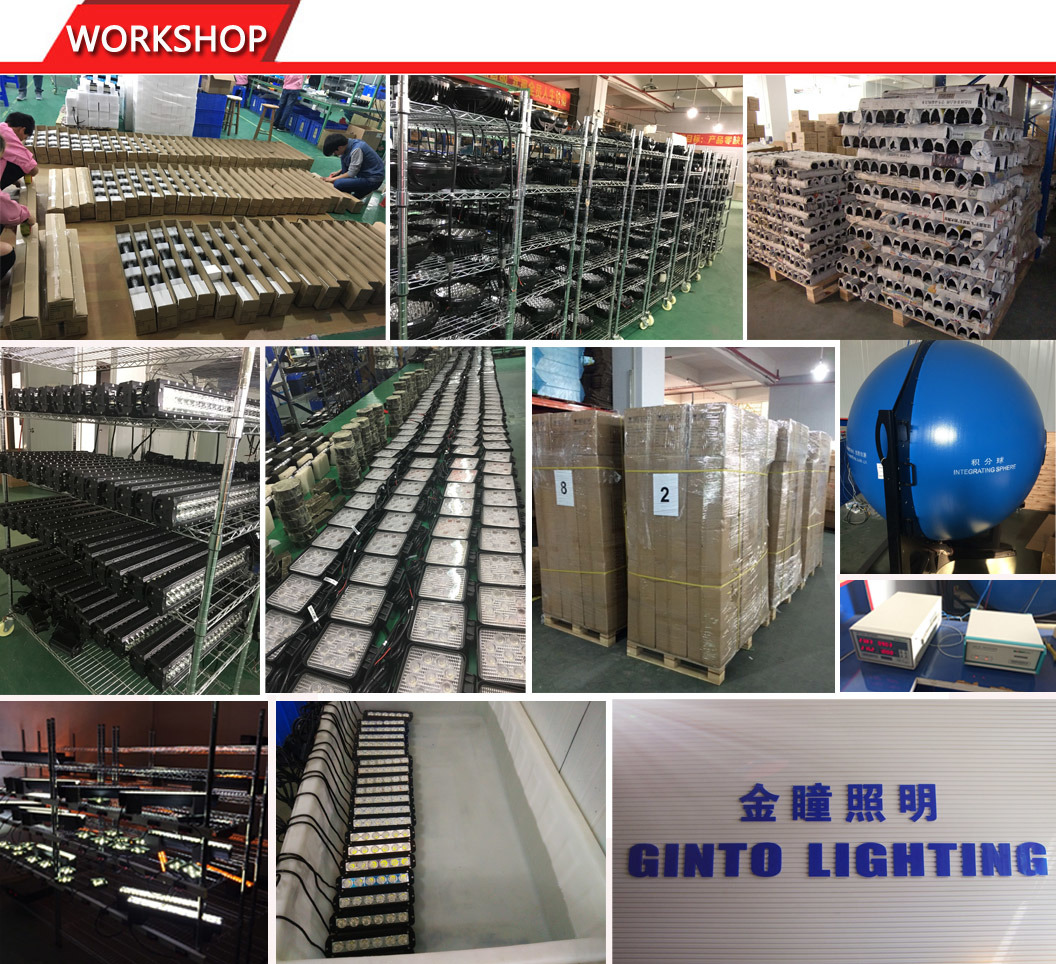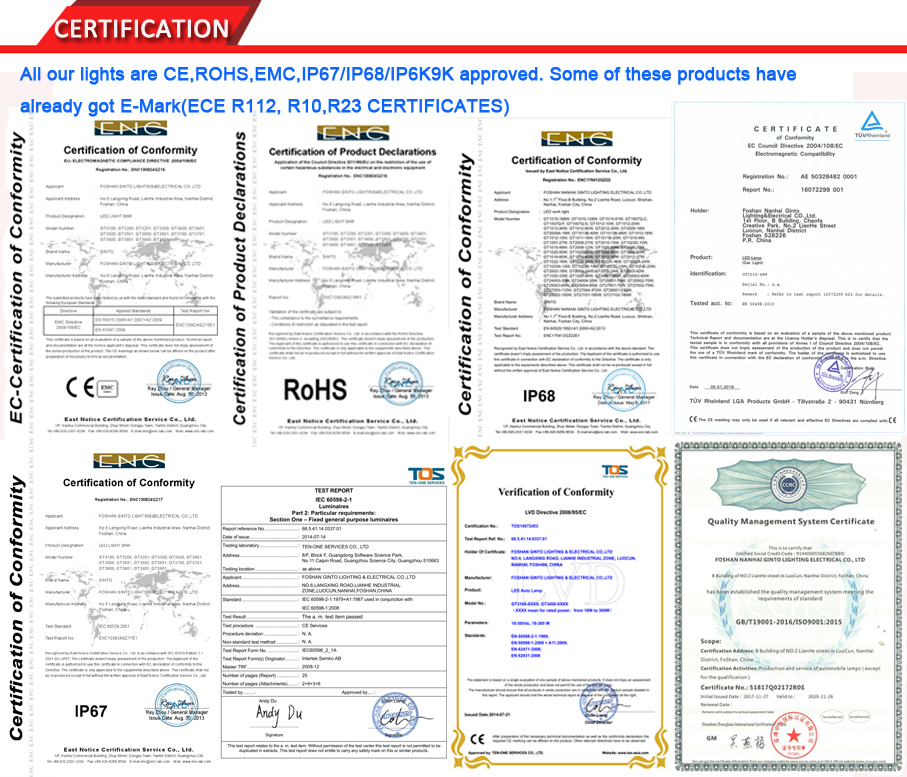 Why choose Ginto Lighting company?
1. Factory Manufacturing Enterprise Provide you with Competitive Price and superior quality.
2. Have stable supply chain which can guarantee our product quality and prompt delivery.
3.Trial Order, small quantity for retail and wholesale are accepted.
4. Fully equipped with advanced machines and experienced workers.
5.OEM Service available, Designed Service Offered, Buyer's Label, customized packages
6.Sincere Service!(Effective pre-sales communication+Good after-sales service )
7.Ginto Lighting and our products have already passed a series of international attestations
including CE, RoHS, ECE, E-mark, IP67, IP68, UL, WEEE certification.

FAQ(Items you should know before you place the order):
Q 1. What are your Payment terms?
T/T, Paypal, Western Union are all available.
 
Q 2. What are your shipping terms?
Normally, for small orders, we will ship the goods by express courier, such as DHL, UPS, TNT, Fedex ...,
we will sure choose the cheapest express agent for you.
For bulk orders, normally we can deliver the goods by air, or by sea.
If it's urgent for you, we will send them to you by normal air ways, 
If it's not urgent, we will deliver by sea ways. 
 
We will choose the best one according to your demand or give you valuable suggestions.
 
Q 3. What is your warranty? How can you make sure that your customers can get the due compensation if they encounter quality problems?
Our warranty time is 1 year.
 
Within the warranty time, under normal using circumstance, if there is any quality problem, please feel free to contact us and send us high-definition photos about the products, for some situations, it's better if you can send us clear videos, and we will send you a new one after we checked. 
 
We are doing long-terms business, we want to build long-terms and stable business relationship with our customers, not just once, we will sure take our responsibility if it's our quality problem.
 
QÂ 4. Do you offer free samples?
Normally, we need to charge you sample fee. If your subsequent orders can reach to a certain quantity, we will return your one piece of sample fee, if you need to know more details, please contact with us to check.
 
Q 5. What services can you offer?
We offer customized sticker & packages cartons; We also accept OEM orders, free logo print service and so on.
 
Q 6. For how long time will you deliver the shipments after we pay the deposit or full amount?
If all the items you ordered are in stock, the shipments will be delivered in 2-3 days; 
For small orders that we need to arrange the production, we will deliver them out within 7-10 days;
For bulk orders or customized orders, we will arrange production plan and reorder the materials, 
generally it takes about 15-25 days.